In today's world, environmental consciousness has become increasingly important in every aspect of our lives. When it comes to professional carpet cleaning, adopting green solutions and practices is not only beneficial for the planet but also for our health. In this blog, we will explore the environmental impact of professional carpet cleaning and discuss the significance of using eco-friendly methods.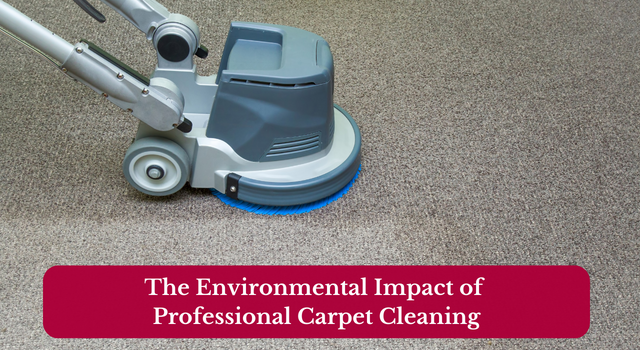 1. The Use of Environmentally-Friendly Cleaning Products: Traditional carpet cleaning often involves the use of harsh chemicals that can be harmful to both humans and the environment. However, Heaven's Best uses eco-friendly products to ensure that your carpets are clean and that no harsh chemicals are used. Our products are all family and pet friendly to ensure your safety! Our products are biodegradable, non-toxic, and free from harsh chemicals such as chlorine, phosphates, and formaldehyde. By choosing a service like Heaven's Best that employs these green alternatives, you can reduce the release of harmful substances into our ecosystem.
2. Water Conservation: Water usage is a critical aspect of carpet cleaning, and traditional methods tend to consume large amounts of water. However, with the advent of advanced technologies and eco-friendly practices, professional carpet cleaners are now able to minimize water waste significantly. Heaven's Best uses low-moisture cleaning or dry cleaning, which utilizes minimal water while still providing effective cleaning results. By conserving water during the cleaning process, we contribute to the conservation of this precious resource.
3. Energy Efficiency: Another environmental consideration in professional carpet cleaning is energy consumption. Heaven's Best doesn't use truck mounts which means our cleaning causes zero carbon emissions. By opting for our professional carpet cleaners who prioritize energy efficiency, we can minimize energy consumption and promote a greener approach to cleaning.
4. Proper Waste Management: Waste management plays a crucial role in reducing the environmental impact of carpet cleaning. Reputable professional carpet cleaning services are committed to responsible waste disposal. We ensure that any waste generated during the cleaning process, such as dirty water and residue, is properly collected, treated, and disposed of according to local regulations. Some companies even adopt recycling practices for materials such as packaging and cleaning supplies, further reducing their environmental footprint.
5. Promoting Indoor Air Quality: Indoor air quality is an important consideration when it comes to professional carpet cleaning. Conventional cleaning methods may leave behind chemical residues that can contribute to indoor air pollution. In contrast, green carpet cleaning solutions prioritize the use of natural and non-toxic products, resulting in improved indoor air quality. This is especially beneficial for individuals with allergies, asthma, or chemical sensitivities.
The environmental impact of professional carpet cleaning can be significantly reduced by adopting green solutions and practices. From using environmentally-friendly cleaning products to conserving water and energy, these practices contribute to a healthier planet and promote sustainable living. When seeking professional carpet cleaning services, it is important to prioritize companies that prioritize eco-friendly methods. By doing so, we not only ensure clean and fresh carpets but also contribute to a greener and more sustainable future.
Heaven's Best Carpet Cleaning in McKinney, TX is your go-to solution for professional and top-quality carpet cleaning services in the McKinney area. With our expertise and commitment to customer satisfaction, Heaven's Best ensures that your carpets are left looking fresh, clean, and rejuvenated. Using our unique low-moisture cleaning method, we deliver efficient and quick drying times, minimizing inconvenience. Our team of trained technicians utilizes eco-friendly cleaning products that are safe for both your family and the environment. Whether you need stain removal, odor elimination, or general deep cleaning, our Carpet Cleaning McKinney team is dedicated to providing exceptional results that exceed your expectations. Experience the difference of our superior service and revive the beauty of your carpets today. Call us at 469-216-2462  for Fresh, Clean, and Revitalized Carpets!